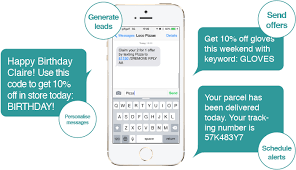 How Can SMS Marketing Help Grow Your Online Presence?
SMS marketing is effective, affordable gem that's gaining ground quickly. It's already popular among a huge number of businesses and is known as one of the most fruitful marketing strategies for businesses in any industry and of any size!
Sending text messages directly to your customers is a great way of spreading your business' name and increasing your sales within a short amount of time, all at a fraction of the cost of traditional marketing!
SMS marketing allows businesses to reach a larger audience since most everyone owns a cellphone that they check regularly throughout the day. It's also a more personal way to connect with clients. 
What is the Power of SMS Marketing?
As the latest trend among marketing strategies, bulk text messaging delivers highly effective results for any business, and it's incredibly affordable for companies on a tight budget.
Let's have a quick look at the main benefits of LiveComm's SMS marketing system!
Text message marketing campaigns have the highest open rate of all marketing avenues, nearly 98% of the time your customers will open your messages!

SMS marketing is highly cost-effective, so even if you need to send messages to a huge roster of clients, it will still be affordable.

Mobile-friendliness is one of the main advantages of SMS marketing. From placing orders and shopping, many people, especially the younger generation, are using their phones for pretty much everything. This means that becoming mobile-friendly will help increase the number of customers interested in your services!

In our era, things are all about speed, convenience and easiness. Text message marketing reaches your customers instantly through a simple process. With LiveComm, there is no need for complex templates, tricky designs, printing costs or anything associated with traditional advertising methods!
Text message marketing also offers business owners a variety of ways to boost your business and customer engagement. Here are a few SMS marketing examples to help you understand the way SMS marketing works:
Discounts: Did you just create a discount sale, but you're unsure how to tell your customers? Send texts to your customers about upcoming discounts on your products or services! You can also reward customers and notify them about special incentives, like discounts for loyal customers or new subscribers!
Alerts: Let your customers know about the last day of sale specials with alerts! Create sense of urgency with phrases like, "Last Chance To Get (Your Product or Service) For 50% Off Until (End Date)."
Offers and Reminders: Send customers reminder text messages about your special offers or promotions. Reminders will help you contact and connect with your customers while also keeping them updated on dates they may forgotten!
How to Promote Your Website with SMS Marketing?
Today, having an online presence is important for any business. It's almost fair to say that without a website or social media accounts, your business may be pretty much unknown in today's social climate.
That doesn't mean you have to heavily invest in marketing you can't afford! LiveComm's SMS marketing can help you grow your online presence and make your website better known by driving more digital traffic to your business.
With bulk text messaging, all you need to do is include a link to business' website and use engaging, relevant copy that drives your customers' interest. Here are a few of our favorite tips on how new customers can do this effectively:
Texts are typically limited to 160 characters so make sure to use short links! The ideal option would be creating a custom short link that includes your brand name, which is far easier than it sounds!

Make sure that the links have the option of destination redirecting. So, if your offer link where has expired, you can change it by redirecting that link to your business' new offer!

Linking to your website through text messaging is a key way to optimize your SMS marketing campaign! We've curated a list of 3 options that can help bring traffic to your website:

Products:

Promote your products via text messages and include a link that directs customers to your product page. You can talk about a specific product in your message to engage your customer to look for more information on the list of all products on the corresponding page. 

Price List:

If customers like your products, what is the next thing that will interest them? The prices! Keep your customers updated on the prices of your services or products and attach a corresponding link to help them learn more. Send texts about all kinds of discounts, available sales and special offers. People are always happy to buy their favorite products or impulse buys at lower prices!

Free Trials: If you are offering a product which comes with an initial free trial, like LiveComm, you can promote it via text message marketing! Include a link to your free trial page and encourage people to try your product for free. This is a great way to drive traffic to your website, gain valuable insights on your customer demographics and let clients sample your service or product!
The demand for SMS marketing is still growing rapidly, and while competition seems high, you're in the prime position to start trying one of the most effective, affordable marketing avenues available today! Don't miss the chance to implement an easy-to-use marketing tool that is highly customizable, effective and affordable.
Ready to start your free trial of LiveComm's SMS marketing system? Contact us today and we'll work with you to get your business set up for success!